Gardens and Ramparts of Marrakech Tour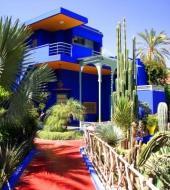 We will begin the tour at the Majorelle Gardens, designed by French artist Jacques Majorelle and restored by Yves Saint Laurent after Majorelle's death.
These botanical gardens are now a haven of peace in the city of Marrakech. The magnificent tropical garden is home to fountains, pools, bamboo forests, cacti and a fabulous collection in private museum. Over 15 exclusive species of birds in North Africa can be found here.
We'll continue the tour with a visit to the garden and the pool of Menara, a famous summer residence of Sultan Abderrahmane, the area is surrounded by orchards and olive groves. Before returning to your hotel, you will have the chance to enjoy a tour of the oldest, famous, historical city walls of Marrakech.
Duration: 3 hours
Pick up: 09:00 am at your hotel
Please specify your hotel when booking
Included:
Comfort & Conditioning Minibus
Professional local guide

Tickets will be sent via e-mail!