Fantasia Moroccan Dinner and Folklore Show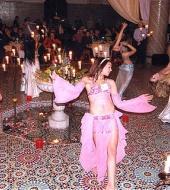 In the heart of Marrakech palm grove, under the shelter of the exotic Berber tents watch a dazzling, multi-coloured show accompanied by a typical Moroccan feast, served in the open-air setting.
As you watch the performance, enjoy a sumptious meal of authentic Moroccan food, comprising of harrira soup, Mechoui (steamed lamb meant), Couscous with fresh vegtables, and a platter of fresh fruit served to you under traditional Caidal tents. Round off a delicious meal with tea and Moroccan pastries.
After this gorgeous meal, the fabulous Fantasia show takes over the arena. The belly dancing, horseback skills and caravans are unforgettable, just like the thousand and one nights come to life!
Duration: 3 hours
Pick up: 20:00 from your hotel
Please specify your hotel when booking
Included:
Mini bus air conditioning
Traditional Typique Moroccan dinner
Unique wonderful show

Tickets will be sent via e-mail!